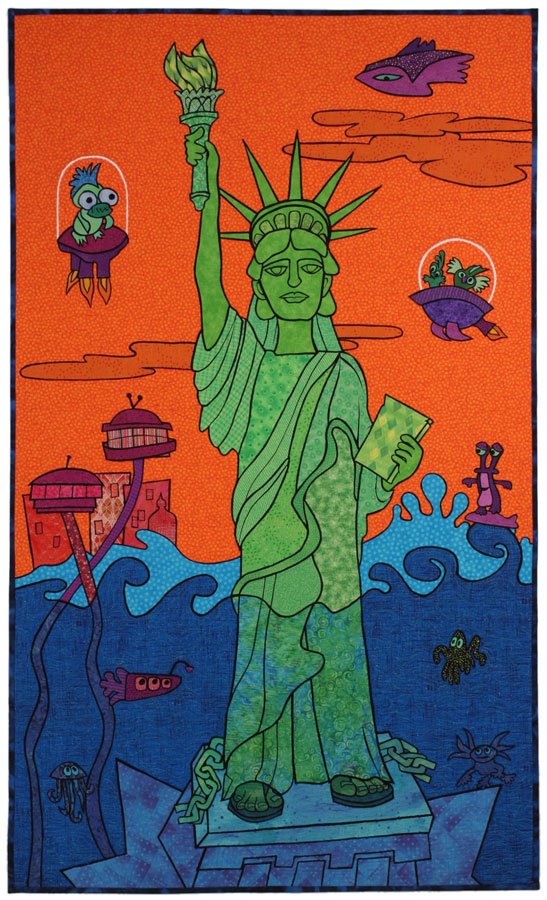 Green Lady Liberty, layered cotton fabrics stitched with thread. 36″ x 60″
currently on exhibit at Visions Art Museum, San Diego in "Expressions in Equality" Jan. 17-April 5, 2015
– a show of 23 art quilts curated by Sheila Frampton-Cooper
After the Civil War ended slavery in the United States, a French sculptor named Bartholdi was inspired to design a monument to celebrate liberation. The collaborative effort of France and the U.S. used over 120,000 donations under $1 each to complete the project.
Today the Statue of Liberty stands in New York Harbor above the broken chains at her feet. She has become an icon of freedom and a welcoming symbol to immigrants traveling from abroad. When my friend immigrated from Italy as a small child, she saw the monument through a boat window and asked her mother, "Is that my grandmother?"
Battered by accidents, explosions and Superstorm Sandy, the monument continues to inspire. Someday I wonder if an arriving alien might ask if the blue-green lady is their grandmother.
All photos by Russ RuBert. Here are few more detail photos below: