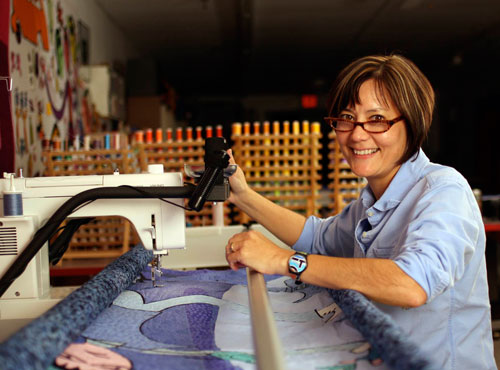 Pam RuBert lives and works in Springfield, Missouri, USA. She is a fiber artist making contemporary art quilts. She is also a co-founder of ideaXfactory, a contemporary art installation space, a 2013-14 Artplace America grantee and 2015-16 National Endowment for the Arts ArtWorks grantee.
Pam's solo exhibitions include The Perils of PaMdora at Pool Art Center, Drury University, Springfield, Missouri; Wish You Were Hair at The Creamery Art Center, Springfield, Missouri, and Threads of Thought at the 21st Carrefour Européen du Patchwork, Sainte-Marie-aux-Mines, France. 
Group exhibitions include Quilt National 2005, 2007, 2009, 2013, and 2015 at the Dairy Barn Southeastern Ohio Cultural Arts Center, Radical Elements at the Museum of Art and Science, McAllen, Texas, 2nd International TECHstyle Art Biennial, San Jose Quilts & Textiles Museum,, and Fiberart International 2007 and 2010, Pittsburgh Center for the Arts.
RuBert's work has been featured in American Style Magazine, the Wall Street Journal, and The Art of Quilting PBS documentary by Wisconsin PBS.. 
Books featuring her work include Quilting Art: Inspiration, Ideas & Innovative Works from 20 Contemporary Quilters, Voyageur Press, 2009, Creative Time and Space: Making Room for Making Art, North Light Books, 2009, and Art Quilt Portfolio: People & Portraits: Profiles of Major Artists, Galleries of Inspiring Works, Lark Crafts, 2013