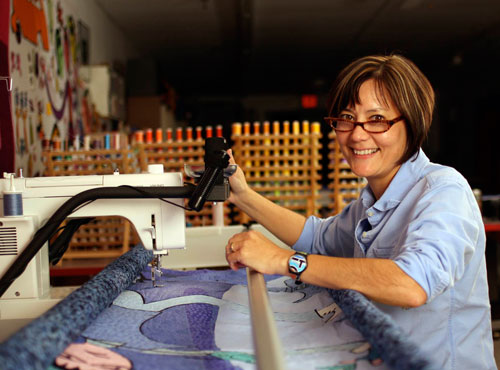 Pam RuBert was born in St. Louis, Missouri, but her life and art has been largely influenced by her Japanese heritage. After graduating with a degree in English Communications and minor in art, she met her future husband Russ RuBert while taking a sculpture class. They were married on a cliff overlooking TableRock Lake in the Ozarks, and after exchanging wedding vows, plunged together into the lake and into a life of art.
Together they renovated an old 22,0000 square foot peanut butter factory to create an art studio. In the center of this "art factory" is Pam's studio where she creates art quilts using fabric, thread, sewing machines, and vintage buttons. When not making art at their studio, Russ and Pam are often traveling to look at art and visit other artists. You can read about their art adventures on Pam's art blog, PaMdora's Box.
Pam started making art quilts in 2004 and since then her work has been featured in national and international exhibits such as Quilt National and Art Quilts at the Sedgwick, in a 2006 PBS nationally televised documentary, and has won awards in the Husqvarna Viking Exhibition and International Quilt Festival. Her quilts, drawings and writing are also featured in books published by Voyageur Press and North Light Books.