I'm pleased that two of my quilts are part of the International TECHstyle Art Biennial (ITAB) at the San Jose Quilts & Textiles Museum. Skating on Thin Ice will be there, and also my newest work, Tokyo – Wish You Were Hair.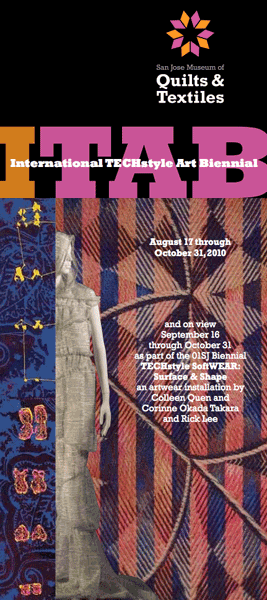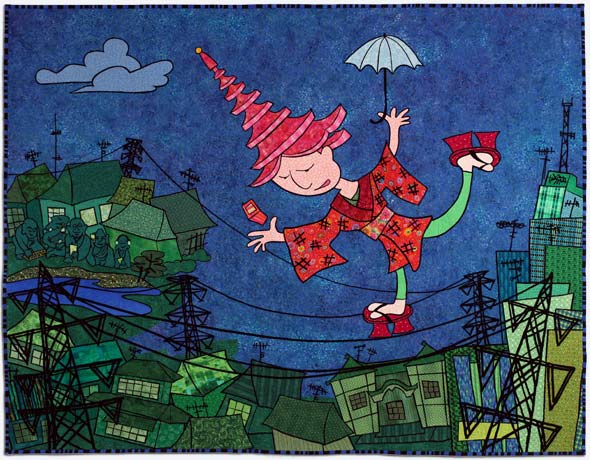 ITAB is a juried exhibition of work by artists exploring the intersection of fiber art with new information and communication technologies, to be held in conjunction with San Jose's biennial ZERO1 Festival, the 2010 01 SJ Biennial, which runs from September 16-19, 2010. The exhibition includes 41 works by 28 artists from six countries—including Canada, China, Germany, Taiwan, the United Kingdom, and the United States. For more information and some images from the upcoming show, check out the museum website article.
San Jose Quilts & Textiles Museum, San Jose, CA
August 17 – October 31, 2010
Opening reception is Sunday, August 22, 2-4pm
These artists were juried by a panel including:
Carole Collet – Course Director of MA Textile Futures at Central Saint Martins College of Art & Design and was co-developer of Nobel Textiles, a two-year collaboration between Central Saint Martins and the Medical Research Council aimed at exploring the interface between science and design. Nobel Textiles paired five Nobel Prize winning scientists with five textile designers to test the premise that "[d]esigners fundamentally shape the way we live, while science pervades the very fabric of our lives." Collet collaborated with John Sulston, who received a Nobel Prize in 2002 for identifying the first mutation in a gene that participates in the deliberate suicide of unwanted cells in multi-cellular animals. Their conversations resulted in Collet creating "suicidal textiles," a collection of sustainable garden textiles and furniture that reflected the process of programmed cell death.
Steve Dietz – artistic director ZERO1: the Art and Technology Network. He is the former Curator of New Media at the Walker Art Center in Minneapolis , Minnesota , where he founded the New Media Initiatives department in 1996, the online art Gallery 9 and digital art study collection. Dietz has organized and curated numerous new media art exhibitions. He speaks and writes extensively about new media, and his interviews and writings have appeared in Parkett, Artforum, Flash Art, Design Quarterly, Spectra, Salmagundi, Afterimage, Art in America, Museum News, BlackFlash, Public Art Review, Else/Where and Intelligent Agent. He has taught about curating and digital art at California College of the Arts, Carleton College , the University of Minnesota , and the Minneapolis College of Art and Design.
Dr. Narinder Kapany – Professor Emeritus at University of California , Santa Cruz , Dr. Kapany is acknowledged by many to be the father of fiber-optics. He has over one hundred patents related to his work in fiber-optic communications, lasers, biomedical instrumentation, solar energy and pollution monitoring. An academic and entrepreneur, Kapany has taught at the University of California, Berkeley and UC Santa Cruz, and for seven years directed the Center for Innovation and Entrepreneurial Development at UCSC. In 1960, he founded Optics Technology Inc. and was Chairman of the Board, President, and Director of Research for twelve years. In 1967 the company went public with numerous corporate acquisitions and joint-ventures in the United States and abroad. In 1973, Kapany founded Kaptron Inc. and was President and CEO until 1990 when he sold the company to AMP Incorporated. A major collector of Sikh art, Kapany is also an artist. He has created forty "dynoptic" sculptures which were first displayed in a one-man show at the Exploratorium of the Palace of Fine Arts in San Francisco in 1972.
Matilda McQuaid – Deputy Curatorial Director and head of the Textiles Department at Cooper-Hewitt, National Design Museum in New York City . Among the many exhibits she has curated, Extreme Textiles: Designing for High Performance (2005) was the first major museum exhibit to investigate innovation in technical textiles. The exhibit showcased textile products that have revolutionized the fields of aerospace, apparel, architecture, the environment, medicine and transportation. Previously Associate Curator in the Department of Architecture and Design at the Museum of Modern Art , she curated the groundbreaking Visions and Utopias: Architectural Drawings from the Museum of Modern Art (2003). Surveying early modern masters such as Frank Lloyd Wright, Le Corbusier, and Mies van der Rohe, as well as contemporary practitioners like Frank O. Gehry, Zaha Hadid, Rem Koolhaas, and Daniel Libeskind, this show explored how the digital revolution has transformed the practice of architecture and of architectural drawing as a form of artistic expression.