Drawing with pens
I like drawing with pen, usually a Micron 03 archival pen or Pigma archival brush pen, because it forces me to keep things fresh and think about the deliberate use of line. Things just happen in pen, both good and bad, and I have to start over with a new drawing if I want to make changes rather than re-work it or erase.
I've always liked telling stories, now I make them in my art. I usually start with lines and do a lot of quick sketches using different approaches, different perspectives, different people. There are so many different ways to portray things — have to think about what to include in the story, what to leave for the viewer to figure out on their own.
Wish You Were Hair
Another drawing for my new series, Wish You Were Hair. I don't know why, but I've always had a fascination with monuments of the world — written about them in my term papers, constructed clay monuments in ceramics, traveled to see them in person.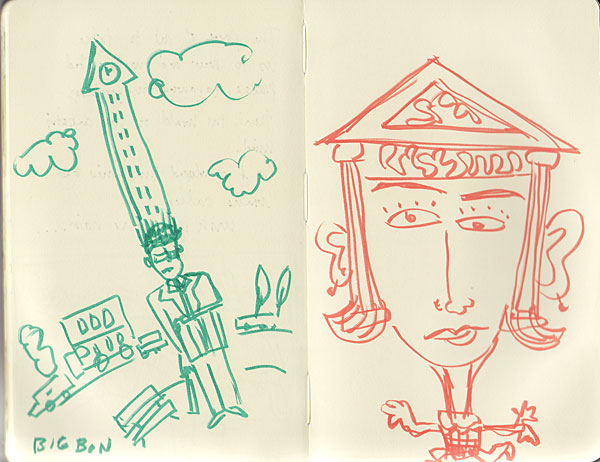 Now these world monuments are starting to appear in my quilts. They have mysteriously collided with my interest in hair stylists and the results have crash-landed in my studio. I've been doodling ideas throughout the summer and am trying to preserve the spontaneity of the original sketches as I convert them to fabric.