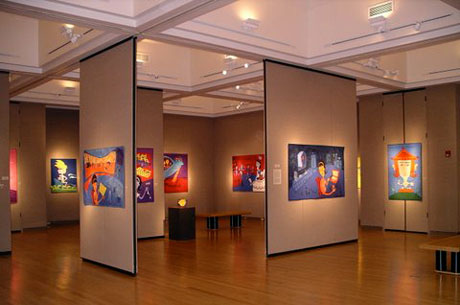 Pam RuBert – Contemporary Art Quilts and Drawings
Mildred M. Cox Fine Art Gallery
William Woods University, Fulton, MO
February 2-27, 2009
This was a special solo show for me because William Woods University is my alma mater. Actually, I was an English communications major at this school, but my art classes and art profs made a much more lasting impression on my life. The show featured 30 of my quilts and ten drawings and framed sketchbook pages.
This art center and beautiful gallery didn't exist when I was a student — our old art building burned down (I had nothing to do with that!) So I wasn't really sure what that the new gallery looked like in real life. When we first walked in, I was shocked. The gallery looked huge, but soon it became apparent, that actually we needed more walls. Well…..like magic, walls appeared.
Artist talk and reception, Thursday, February 26, 2-4 p.m.
9 a.m.-4 p.m. Monday – Friday
1-4 p.m. Saturday – Sunday.
Admission is free and open to the public.
For more information call (573) 592-4245
Click on a thumbnail below to see a larger image: